Subwoofer Wiring Wizard, One 4 ohm Dual Voice Coil (DVC) Speaker
Below are the available wiring diagrams for the speaker configuration you selected. The resulting impedance (ohm load) is considered the "Nominal Impedance" seen by the amplifier.
Note: One or all of the wiring options shown in this application may not be compatible with your amplifier because of low impedance loads. Please check your amplifier owner's manual to determine the best wiring option and verify the overall impedance load is compatible with your amplifier before making any connections. When making any connections, observe proper polarity to prevent damage to your amplifier and/or speaker system. *The location of positive (+) and negative (-) speaker terminals have been reversed in one or more diagrams for easier readability.

One 4 ohm Dual Voice Coil (DVC) Speaker
Option 1 (parallel) = 2 ohm load
Voice coils wired in parallel
Recommended Amplifier: Stable at 2 or 1 ohm mono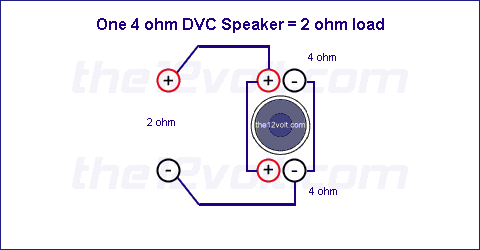 Option 2 (series) = 8 ohm load
Voice coils wired in series
Recommended Amplifier: Stable at 4, 2, or 1 ohm mono
Follow the12volt.com

Sunday, September 24, 2017

• Copyright © 1999-2017 the12volt.com

• Donate to the12volt.com • Advertising • Top of Page

Disclaimer:

*

All information on this site ( the12volt.com ) is provided "as is" without any warranty of any kind, either expressed or implied, including but not limited to fitness for a particular use. Any user assumes the entire risk as to the accuracy and use of this information. Please verify all wire colors and diagrams before applying any information.