Subwoofer Enclosures, Second Order, Acoustic Suspension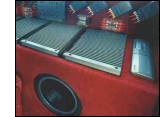 These enclosures are usually the easiest enclosures to build and are the most forgiving of many constuction and design errors.
Other characteristics include a shallow roll off on the low end (12 dB), great low frequency power handling, the best transient responses, and smaller enclosure sizes than most other designs. However, magnet structures will not cool as well as they do in some ported enclosures, and distortion in the upper bass frequencies is more noticable than ported enclosures, but can usually be compensated for by lowering the crossover frequency or using a steeper cut-off filter.
Remember, none of these enclosures are shown to scale. Please refer to your driver's specifications for recommended/optimal enclosure volumes.

Sealed Enclosure
Here is a basic sealed enclosure. Often these are construsted with the face or rear wall of the encloser angled to prevent standing waves within the enclosure, but since many sealed enclosures are so small this is unlikely to occur and may be a simple box shape as shown, but lining the walls with an acoustic damping material is still recommended.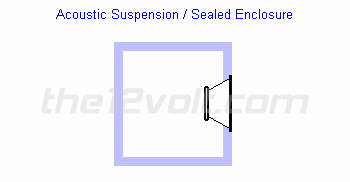 Isobaric - Sealed
When enclosure space must be at a minimum, sealed isobaric designs work very well. These usually require half the space of a basic sealed enclosure, but require twice as many drivers and will acheive the same acoustical output as the single driver show above in the larger enclosure.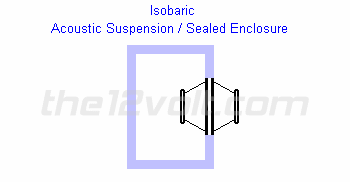 Isobaric - Sealed (Compound Loading)
Another isobaric enclosure with the drivers facing the same direction. Obviously this will require a larger enclosure than the one shown above, but again, output will be the same.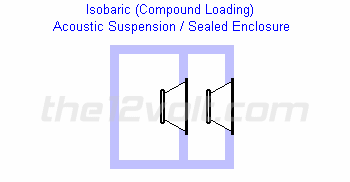 Isobaric - Sealed (Back to Back)
Another variation of an isobaric enclosure. It doesn't matter which way the two drivers face, but if you have the space to use this enclosure, you should be able to use a simple sealed enclosure instead (only one driver reguired!).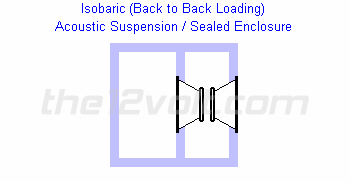 Isobaric - Sealed (Planar Loading)
Odd spaces will require unique box shapes. This isobaric enclosure can be a great solution for such a space. Remember, the volume of air space between the two drivers is not crucial to the design of the enclosure, (however, you do not want to make it too small) only the volume of the main section of the enclosure (that of the rear enclosed driver).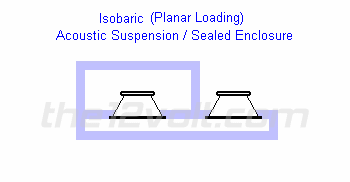 Follow the12volt.com

Thursday, May 24, 2018

• Copyright © 1999-2018 the12volt.com

• Support the12volt.com • Privacy Policy • Top of Page

Disclaimer:

*

All information on this site ( the12volt.com ) is provided "as is" without any warranty of any kind, either expressed or implied, including but not limited to fitness for a particular use. Any user assumes the entire risk as to the accuracy and use of this information. Please verify all wire colors and diagrams before applying any information.