Car Security and Convenience / Alarm Accessories and Add-ons

Window Roll Up/Down Modules

Window Modules
If you're familiar with door locks, then window modules will be a breeze. Most connections are identical to a five wire alternating (+) 12 VDC door locking sytem. Others will require grounding one of the motor legs during up and down operations as with a four wire reversal door lock system. Some modules will control four motor legs to allow operation of two windows up and down. Some that control four motor legs will only allow operation of four up or four down. Be sure to get the one(s) you need for your application.

In either case, the window module switch and motor wires will be connected in series to each motor leg of each window you wish to control. In addition the modules will require connections to (+) 12 VDC, ground, and at least one *auxilary output of the alarm or keyless entry module. Others may include inhibits to prevent operation when the ignition is on or when the alarm is armed. These can easily be wired to suit your needs and omitted if not desired. Read your manual for details about your unit.

*Special applications will not necessarily require any connections to the alarm or keyless entry module. These may be triggered by devices such as feild disturbance sensors and other sensors and triggers.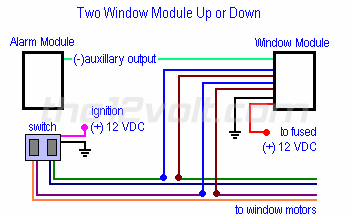 Follow the12volt.com

Tuesday, June 6, 2023

• Copyright © 1999-2023 the12volt.com, All Rights Reserved

• Privacy Policy & Use of Cookies

Disclaimer:

*

All information on this site ( the12volt.com ) is provided "as is" without any warranty of any kind, either expressed or implied, including but not limited to fitness for a particular use. Any user assumes the entire risk as to the accuracy and use of this information. Please verify all wire colors and diagrams before applying any information.