Recommended Tools & Equipment for the Shop & Installer: Safety Equipment and Info
Safety Equipment & Information
Eye Protection
Safety Glasses; There are many types to choose from. Get a pair that fits comfortably and wear them!
Ear Protection
Ear plugs or domes. These will protect your ears from ringing and prevent head aches when using loud power tools. Wear them!
Gloves
Heat Insulated; Available in different sizes.
First Aid Kit
This should be a complete kit that meets or exceeds OSHA standards. Keep it fully stocked.
Paint Spray Respirator
With additional cartridges and pre filter pads. Snap-on ®, Mac ®, Matco ®, Willson ®, etc.
Personal Information
You should inform your employer and/or fellow employees of any special health conditions you may have, including blood type, food allergies, and people to contact in case of emergency.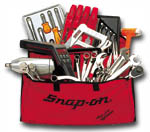 Follow the12volt.com

Wednesday, September 27, 2023

• Copyright © 1999-2023 the12volt.com, All Rights Reserved

• Privacy Policy & Use of Cookies

Disclaimer:

*

All information on this site ( the12volt.com ) is provided "as is" without any warranty of any kind, either expressed or implied, including but not limited to fitness for a particular use. Any user assumes the entire risk as to the accuracy and use of this information. Please verify all wire colors and diagrams before applying any information.

We are a participant in the Amazon Services LLC Associates Program, an affiliate advertising program designed to provide a means for us to earn fees by linking to Amazon.com and affiliated sites.