Recommended Tools & Equipment for the Shop & Installer: Hand Tools
Hand Tools
Combination Wrenches
Metric: 4mm thru 19mm
SAE: 7/32'' thru 1½''
Nut Drivers
Metric: 4mm thru 14mm
SAE: 1/8'' thru 5/8''
Sockets
Metric: 4mm thru 19mm; standard and deep
SAE: 7/32'' thru 1¼'' standard and deep.
Impact SAE: 3/8'' thru 1 1/8''
Impact Metric: 10mm thru 19mm
Other Sockets: Three Wing #2; Torx set T8 thru T45; Phillips #'s 2, 3; Flat Tip ¼'' thru ½''
Drive Tools ¼'' thru ½'' including extensions, various ratchets, drivers, & accessories
Ratcheting Boxed End Wrenches
Metric: 8mm thru 19mm
SAE: 5/16'' thru 13/16''
Folding Wrench Sets
Torx T9 thru T40
U.S. Hex: 5/64'' thru 7/32''
Metric Hex 1.5mm thru 6mm
Adjustable Wrenches
Various lengths up to 14''
Torque Wrenches
Ranges: 30 lb. in. thru 300 lb. in.
Flat Tip Screwdrivers
Mini set, electronics set, Mini, Stubby, various tip widths and overall lengths up to 24''
Phillips Tip Screwdrivers
Tip sizes #0 thru #3; Electronics set; Mini, Stubby, various lengths up to 24''
Pozidriv Tip Screwdrivers
Tip sizes #1 thru #3; Stubby to lengths up to 14''
Torx Tip Screwdrivers
Sizes T8 thru T30
Ratcheting Screwdriver
Magnetic ¼'' drive; Stubby & Standard
Pro Skewdriver ® Set
Stick with the "Pro" model.The driver detaches from the handle and can be used in your cordless drill. Includes a complete set of hex shank bits, extensions, and case.
Screw Starter
Combination Flat & Phillips tip; 9'' length
Slip-Joint Pliers
Various lengths up to 10''
Lineman's Pliers
8'' to 10'' in length
Adjustable Joint Pliers
Lengths up to 16''
Needle Nose Pliers
Various sizes; lengths up to 8''
Cutters (pliers)
Various sizes; lengths up to 8''
Vise-Grips ®
Various jaw types and lengths
Retaining Ring Pliers
1/8'' to 3 ½'' Shaft / Bore diameter; various tips
Aviation Snips
Set of Straight, Left, & Right.
Terminal Crimpers
Snap-on ® model PWC29 or equivalent
Strippers
Snap-on ® model PWC6 or equivalent
Battery Terminal Crimper
Snap-on ® model YA9484 or equivalent
Cable Crimpers
For Motorola and BNC connectors
Hemostats
Straight and Curved jaws
Scissors
Fiskars or equivalent; various sizes
Knives
Putty Knife, Utility & Mini w/blades; Folding Knife
Files
Set should include Flat, Round, Half Round, Joint, and more.
Automatic Center Punch
Snap-on ® model YA805A or equivalent
Pry bars
Wrecking Bar and 22'' Pinch Bar
Miniature Pick Set
Snap-on ® model ASA204A or equivalent
Hacksaws
10'' or 12'', Mini, & Jab Saw
Tapered Reamers
Set of reamers tapered from 1/8'' to 1''
Wire Brushes & Scrapers
Hand Scratch Brush; ½'' & 1''Hand Scrapers
Hammers
Claw, Ball Peen, Dead Blow, Rubber Mallet
Chisel Set
Flat, Starter Punch, etc.
Measuring

Compass, Tape Measures, Squares, Steel Rules, Straight Edges, etc. Available from most art supply centers.
Door Panel Removers
Trim Pad, Window Clips, Door Handles; Snap-on ®, Mac ®, Matco ®, etc.
Hook Tool
Snap-on ® model CP3B or equivalent
Battery Terminal Cleaners
Top and Side Post Cleaners; Snap-on ® models BTC3 and BTC10 or equivalents
Clamps
C-clamps, Bar clamps, etc.; various lengths and sizes
Other tools seldomly used may not be listed.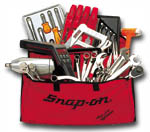 Follow the12volt.com

Friday, June 9, 2023

• Copyright © 1999-2023 the12volt.com, All Rights Reserved

• Privacy Policy & Use of Cookies

Disclaimer:

*

All information on this site ( the12volt.com ) is provided "as is" without any warranty of any kind, either expressed or implied, including but not limited to fitness for a particular use. Any user assumes the entire risk as to the accuracy and use of this information. Please verify all wire colors and diagrams before applying any information.

We are a participant in the Amazon Services LLC Associates Program, an affiliate advertising program designed to provide a means for us to earn fees by linking to Amazon.com and affiliated sites.