Recommended Tools & Equipment for the Shop & Installer: Tools and Equipment Storage
Storage
Roll Cab & Chest
Most installers start with this combination and add an intermediate chest and/or hang on boxes. Mac ®, Matco ®, and Snap-on ® will take trade-ins when you're ready for a larger roll cab and/or chest. Most will even take Craftsman ®.
Storage Cabinets
Ideal for storing and securing larger tools and equipment, reference material, small templates, supplies, etc.
Wall Cabinets
Often equipped by the shop; good for reference materials, supplies, small to medium size tools, etc.
Other
Some workbenches will provide additional storage for larger tools and supplies. These are often built by the installers to meet the needs of the shop.
Accessories
For storage there's a bunch. Socket & Wrench Racks, Dividers, Magnetic Holders, Cases, etc. Craftsman ®, Mac ®, Matco ®, Snap-on ®, etc.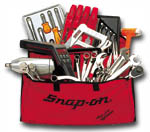 Follow the12volt.com

Tuesday, February 20, 2018

• Copyright © 1999-2018 the12volt.com

• Donate to the12volt.com • Advertising • Top of Page

Disclaimer:

*

All information on this site ( the12volt.com ) is provided "as is" without any warranty of any kind, either expressed or implied, including but not limited to fitness for a particular use. Any user assumes the entire risk as to the accuracy and use of this information. Please verify all wire colors and diagrams before applying any information.

We are a participant in the Amazon Services LLC Associates Program, an affiliate advertising program designed to provide a means for us to earn fees by linking to Amazon.com and affiliated sites.