Recommended Tools & Equipment for the Shop & Installer: Test Equipment
Test Equipment
Digital Multi Meter (DMM)

A must for today's vehicles. If you're still using a test light, throw it away! Although this cost much more than a test light, it is far less expensive than replacing a BCM or any other sensitive electronics in todays automobiles. These are necessary for readings a test light can't give you.
Real Time Analyzer (RTA)
Audio Control ® SA-3052 or equivalent with Pink Noise Generator, 175 dB Microphone, SPL Meter, etc.
Speaker Phase Tester
Your ears should be the ultimate phase testing tool, but a 1.5 volt battery with test wires can help you find those out of electrical phase.
Oscilloscope
2 Channel, Dual Trace, 20 Mhz or better; B&K Precision ®, Hewlett-Packard ®, Tek ®, etc.
Signal Generator
Aids in tuning box ports and locating speakers out of acoustical phase.
Hydrometer
Snap-on ® model THX117 or equivalent
Battery & Alternator Tester
Snap-on ® model YA271 or equivalent
Power Supply
30 to 50 Amps Continuous or better; Test Bench should also include Speakers, an Amplifier, Head Unit and Various Cables & Connectors. Astron ® or equivalent
Other tools seldomly used may not be listed.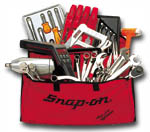 Follow the12volt.com

Tuesday, February 20, 2018

• Copyright © 1999-2018 the12volt.com

• Donate to the12volt.com • Advertising • Top of Page

Disclaimer:

*

All information on this site ( the12volt.com ) is provided "as is" without any warranty of any kind, either expressed or implied, including but not limited to fitness for a particular use. Any user assumes the entire risk as to the accuracy and use of this information. Please verify all wire colors and diagrams before applying any information.

We are a participant in the Amazon Services LLC Associates Program, an affiliate advertising program designed to provide a means for us to earn fees by linking to Amazon.com and affiliated sites.