Subwoofer Enclosures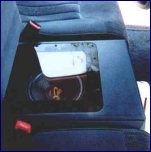 The enclosure is equally as important as the woofer and should be designed for use with the particular woofer you have chosen. Deciding which enclosure(s) and woofer(s) are best for you can be a task all of it's own, but size constraints of the vehicle, knowledge of Thiele - Small parameters, and understanding the inherent sound characteristics of different enclosure designs will help you decide.
All enclosures should be constructed of at least 5/8'' - 1'' MDF (medium density fiberboard) or material of comparable rigidity or better. Bracing (not shown) should be used throughout the enclosures as needed to prevent any loss of energy due to flexing. For you SPL competitors, I repeat...bracing should be used throughout the enclosures.... Flexing = lost output. With all enclosures, lining the walls with a damping material (fiberglass batting, polyfill, tar based spray, etc.) is recommended to reduce high frequency resonances.
Often the total order of the system is confused with the order of the enclosure. The diagrams shown throughout this section refer only to the order of the enclosure (and are not to scale). The order of the crossover will add to the total order of the system.
There are many types and variations of woofer enclosures. The following information is intended to provide you with a basic understanding of enclosure types and their respective characteristics, design possibilities, and to help you decide which enclosure may work best for you and/or your customers.
For an in depth resource on building subwoofer enclosures, including formulas, diagrams, projects, and addditional resources, the12volt.com highly recommends you visit
Brian Steele's The Subwoofer DIY Page v1.1
.

Follow the12volt.com

Saturday, September 23, 2023

• Copyright © 1999-2023 the12volt.com, All Rights Reserved

• Privacy Policy & Use of Cookies

Disclaimer:

*

All information on this site ( the12volt.com ) is provided "as is" without any warranty of any kind, either expressed or implied, including but not limited to fitness for a particular use. Any user assumes the entire risk as to the accuracy and use of this information. Please verify all wire colors and diagrams before applying any information.