Subwoofer Enclosures, Second Order, Infinite Baffle, Free Air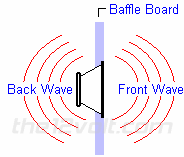 These are great for applications where trunk space is at a minimum and usually the easiest and least expensive way to add a subwoofer to most sedans. Not having to construct a box is an advantage, but many vehicles will require a new rear deck panel and/or vent to be constructed to accomodate even smaller woofers. These custom vents and panels could cost as much or more than a prefabricated or custom box.
Infinite baffle set-ups require a woofer with a beefier suspension for high power handling and one with better cone damping. This set-up will be less efficient in reproducing the lowest frequencies as compared to other second order or higher enclosures.
In any free air application, the back seat and surrounding panels should be removed to seal any possible areas where energy could be lost. It is crucial to separate (seal) the back wave of the loudspeaker (woofer) from the front wave of the loudspeaker. If not, bass cancellation will occur. This is also a good time to rid and deaden the trunk and surrounding areas of any unwanted noises and rattles.
Typical Rear Deck Infinite Baffle/Free Air Installation

Typical Rear Deck Installation/Infinite Baffle/Free Air
Larger sedans, especially older ones, will have enough surface area to accomodate a pair of 12 or 15 inch woofers. These will be the easiest to incorporate an infinite baffle set-up into. Don't forget to seal any areas where energy could be lost that would cause any cancellation. For smaller rear decks, a vent will have to be constructed.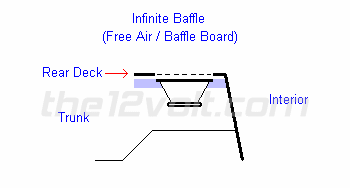 Back Seat Infinite Baffle/Free Air Installation

Back Seat Installation
The baffle board may also be mounted behind the back seats (usually folding) instead of under the rear deck. This is often easier and less expensive than cutting the rear deck and will not require any modifications to the existing deck panel.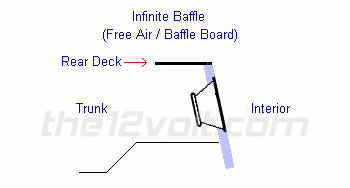 Small Deck Infinite Baffle/Free Air Installation

Small Deck Installation
Many of today's vehicles lack the surface area needed to mount a ten inch or larger woofer in the rear deck. If this is the case, it is still possible to use free air woofers by venting them through the rear deck as shown in the two diagrams below. Sealing the trunk area from the interior of the vehicle is still critical to a successful installation. Try to keep the inside dimensions of the front and rear walls of the vent at least four inches apart when working around trunk springs and other obstacles.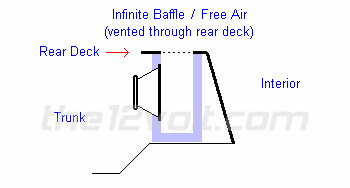 Another small deck configuration like the one above, but with the magnet structure mounted inside the vent.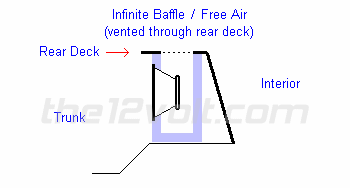 Follow the12volt.com

Wednesday, September 27, 2023

• Copyright © 1999-2023 the12volt.com, All Rights Reserved

• Privacy Policy & Use of Cookies

Disclaimer:

*

All information on this site ( the12volt.com ) is provided "as is" without any warranty of any kind, either expressed or implied, including but not limited to fitness for a particular use. Any user assumes the entire risk as to the accuracy and use of this information. Please verify all wire colors and diagrams before applying any information.