Subwoofer Enclosures, Sixth and Eighth Order, Bass Reflex, Bandpass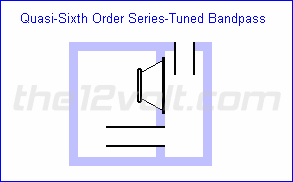 Most often only seen in SPL competitions, the sixth & eighth order bandpass and Quasi-sixth & Quasi-eighth order bandpass enclosures can offer a GREAT deal of SPL in a "relatively" small enclosure if built "dead on balls accurate", but often (expletive removed) at reproducing anything worth listening to in the mobile enviroment. Unless precisely constructed, the end result is almost guaranteed to be a waist of time, money, and effort.
Don't let my opinions stop you from trying. Remember, it doesn't matter what I like, or for that matter, what anyone else likes. It only matters what you like. So if you're feeling ambitious, and want something that has the potential of being incredibly loud, go for it, but keep the following in mind and please do not email me if you waist a few hundred dollars or more on lumber, hardware, and replacing blown woofers. The only response you'll get from me is "I told you so." Enough of my rambling (heh). Here's what you should know.
The enclosure's performance is limited to a very narrow bandwidth of frequency response and can be extremely complex to build correctly. Woofers are very susceptible to cone over-excursion for frequencies outside of their operating region (specifically when they unload below the tuned port frequency). For this reason alone a high quality electronic crossover should be used with a 24 dB per octave cut-off slope or higher and each woofer should be fused appropriately.
It is unlikely that you will be able to hear when a woofer in these enclosures is about to turn into a paper weight, but once you do notice it, it's probably too late. And now if you haven't made the enclosure so it's easy to change the woofer, you're probably wishing that you never decided to build it in the first place.
The transient response of a sixth order enclosure is worse than any other enclosure with the exception of an eighth order enclosure. The power handling is excellent within the bandpass region and SPL can be intense. This is what makes these a great choice for some SPL competitors, but for everyday listening, they are less than desirable.
So why did I make this page about sixth and eight order enclosures? Mainly so you can recognize these enclosures and perhaps if you happen to see any in use, you'll have some appreciation for the effort that went in to the design and construction of them. I take my hat off to those that have done it correctly, but as you can tell, these are not enclosures that I feel are worth trying to incorporate into a mobile enviroment. For the amount of space, time, money, and effort it takes to build any of these enclosures, you can more easily build enclosures that are more suitable for everyday listening and that can be just as competitive. Below are several examples of sixth and eighth order enclosures.
Sixth Order Enclosures
Eighth Order Enclosures

Follow the12volt.com

Tuesday, September 26, 2023

• Copyright © 1999-2023 the12volt.com, All Rights Reserved

• Privacy Policy & Use of Cookies

Disclaimer:

*

All information on this site ( the12volt.com ) is provided "as is" without any warranty of any kind, either expressed or implied, including but not limited to fitness for a particular use. Any user assumes the entire risk as to the accuracy and use of this information. Please verify all wire colors and diagrams before applying any information.