Recommended Tools & Equipment for the Shop & Installer: Miscellaneous Tools and Equipment
Miscellaneous Tools and Accessories
Battery Charger
400 Amp Boost; Variable Slow Charge
Floor Jack
2 Ton Capacity or better. Available at any auto parts store.
Jack Stands
Heavy Duty; Adjustable. Available at any auto parts store.
Fender & Seat Covers
Not needed to complete any installations, but often used and recommended by professionals. Snap-on ®, Mac ®, Matco ®, etc.
Creeper & Stool
Snap-on ®, Mac ®, Matco ®, etc.
Tap and Die Sets
Metric and SAE; Snap-on ®, Mac ®, Matco ®, etc.
Fish Tape / Wire Snake
And other materials such as antenna masts, welding wire, etc.
Hood / Trunk Tool
To hold those broken and weak lids that won't stay open on their own. Snap-on ®, Mac ®, Matco ®, etc.
Radio Removal Keys
An assortment for as many brands of radios as possible.
Tool Magnetizer
For magnetizing screwdrivers, etc.; Craftsman ®, Snap-on ®, Mac ®, Matco ®, etc.
Universal Lock Out Kit
This should never be necessary for any install, but you never know when a customer, salesperson, or some other installer may lock the keys in a vehicle. Every shop should have one! Available from Mac ®, Matco ®, Snap-on ®, etc.
Other tools seldomly used may not be listed.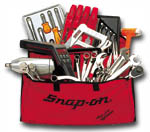 Follow the12volt.com

Tuesday, February 20, 2018

• Copyright © 1999-2018 the12volt.com

• Donate to the12volt.com • Advertising • Top of Page

Disclaimer:

*

All information on this site ( the12volt.com ) is provided "as is" without any warranty of any kind, either expressed or implied, including but not limited to fitness for a particular use. Any user assumes the entire risk as to the accuracy and use of this information. Please verify all wire colors and diagrams before applying any information.

We are a participant in the Amazon Services LLC Associates Program, an affiliate advertising program designed to provide a means for us to earn fees by linking to Amazon.com and affiliated sites.