Recommended Tools and Equipment for Mobile Electronics Installers
There is no substitute for having the right tool. It will save you time and needless aggravation. Don't skimp! These tools should last you a lifetime. Most shops will provide the needed stationary and heavy power tools and equipment, but very few if any will provide hand tools and smaller power tools.
For sockets and wrenches, Craftsman offers complete sets at reasonable prices. For screw drivers and specialty hand tools, Klein, Mac, Matco, and Snap-on are the most popular choices of professionals. DEWALT, Black & Decker, and Makita are amongst the most popular choices for cordless drills and portable power tools. Chicago Pneumatic, Mac, Snap-on, and Matco offer a complete selection of quality air tools. I highly recommend Delta for stationary woodworking tools such as table saws, drill presses, band saws, etc.
The following list is typical for many "first class installers", "master installers", and custom shops. Beginners are not expected to have all of these, but should have most of the hand tools, a DMM, a cordless drill, and a roll cab to store them. *Custom fabrications other than woodworking and upholstery such as fiberglassing and metalwork will require other specialized tools not listed in this section.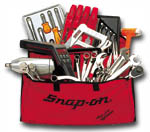 Follow the12volt.com

Monday, February 19, 2018

• Copyright © 1999-2018 the12volt.com

• Donate to the12volt.com • Advertising • Top of Page

Disclaimer:

*

All information on this site ( the12volt.com ) is provided "as is" without any warranty of any kind, either expressed or implied, including but not limited to fitness for a particular use. Any user assumes the entire risk as to the accuracy and use of this information. Please verify all wire colors and diagrams before applying any information.

We are a participant in the Amazon Services LLC Associates Program, an affiliate advertising program designed to provide a means for us to earn fees by linking to Amazon.com and affiliated sites.