Index of the12volt.com's Calculators, Charts, Diagrams, and Resources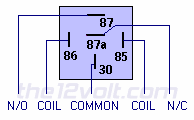 As I continue working on this site, I'll draw more diagrams and create more charts and calculators as needed and list them on this page. Additional information can be found in our Vehicle Wiring Database, Relay Diagrams - Quick Reference, Members' Downloads Section, and our forum, the12volt's install bay. Please do not email requests for information.

...the12volt
Basic Electronics
Calculators
Car Stereo, Power and Speaker Wiring
Cruise Controls
Door Locks & Window Modules
Light Flash & Illuminated Entry
Passive Crossovers
Starter Interrupts
Subwoofer Enclosures and Wiring
Miscellaneous
Additional information has been posted in our forums. To get the information not posted here, please post your request in our forums, the12volt's Install Bay. Please do not email your requests. We will not respond to any requests by email.

Follow the12volt.com

Tuesday, October 3, 2023

• Copyright © 1999-2023 the12volt.com, All Rights Reserved

• Privacy Policy & Use of Cookies

Disclaimer:

*

All information on this site ( the12volt.com ) is provided "as is" without any warranty of any kind, either expressed or implied, including but not limited to fitness for a particular use. Any user assumes the entire risk as to the accuracy and use of this information. Please verify all wire colors and diagrams before applying any information.