Recommended Tools & Equipment for the Shop & Installer: Portable Power Tools
Portable Power Tools & Accessories
Cordless Drills
Straight and Right Angle Reversible models; 3/8'' or 10mm; 9 Volt System or higher; Should have extra batteries and charger. DEWALT ®, Snap-on ®, Makita ®, Black & Decker ®, etc.
Power Drills
3/8'' Straight & Right Angle; 1/2'' Straight; Reversible models; DEWALT ®, Makita ®, Black & Decker ®, Snap-on ®, etc.
Drill Bits / Hole Saws
Cobalt and High Speed Sets: 1/16'' to 1/2''
Uni-Bits ®: #1 & #2
Wood Bits (spade): up to 1''
Hole Saws: Wood & Metal; up to 6''
Rotory Tool
Dremel ®, Moto-Tool, or equivalent; assortment of bits
Heat Gun
Black & Decker ® or equivalent
Hot Glue Gun
Assortment of Glue Sticks; Craftsman ®, Black & Decker ®, or equivalent
Routers
Many shops will provide at least two routers and one router table. Most installers that do custom woodworking on a regular basis should have their own routers and a variety of bits. DEWALT ®, Makita ®, Bosch ®, Ryobi ®, Black & Decker ®, etc.
Circular Saw
7¼'' model; Mainly for rough cuts; Makita ®, Skill ®, DEWALT ®, Black & Decker ®, etc.
Sabre Saw/ Jigsaw
Rotating Handle; Metal & Wood cutting blades; Makita ®, Black & Decker ®, DEWALT ®, Bosch ®, etc.
Belt Sander
3'' X 21'' model; Variable Speed; Assortment of Sanding Belts; Bosch ®, Black & Decker ®, Makita ®, Skill ®, etc.
Palm Sander
1/4 Sheet model; DEWALT ®, Makita ®, Black & Decker ®, etc.
Soldering Irons
Cordless & Corded Station w/ Adjustable Temperature Control; Various Tips; Solder; Solder Sucker; Weller ®, Portasol ®, etc.
Extension Cords
3 Prong; Various Lengths; UL Approved
Outlet Strips
Overload Protection; UL Approved
Lights & Flash Lights
Florescent Drop Light, Free Standing Lights, Flash Lights in various sizes. Many installers choose a flashlight that works with the same batteries as other cordless tools. Makita ®, DEWALT ®, Black & Decker ®, etc.
Other tools seldomly used may not be listed.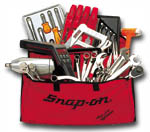 Follow the12volt.com

Tuesday, February 20, 2018

• Copyright © 1999-2018 the12volt.com

• Donate to the12volt.com • Advertising • Top of Page

Disclaimer:

*

All information on this site ( the12volt.com ) is provided "as is" without any warranty of any kind, either expressed or implied, including but not limited to fitness for a particular use. Any user assumes the entire risk as to the accuracy and use of this information. Please verify all wire colors and diagrams before applying any information.

We are a participant in the Amazon Services LLC Associates Program, an affiliate advertising program designed to provide a means for us to earn fees by linking to Amazon.com and affiliated sites.