Car Audio, Mobile Video, Navigation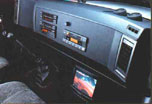 Perception of sound is subjective to each of us, just as some people may find black cars more appealing than other color cars. If you like your car stereo system more than any other in the same vehicle, then you have the best. But, if you like some other car stereo system more than yours in the same vehicle, then that one is better. Only you can decide which is best for you. For a car stereo system and installation to be a good or great system and installation, it must meet or exceed the user's expectations.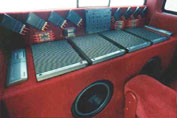 For the best references to compare to your car stereo system or any other, experience live music in as many different environments as possible. One of the best ways to accomplish this is to follow several artists that you really like from venue to venue (one environment to another). You'll immediately notice the difference in sound characteristics of each location and with the same artist. You will find some environments that you prefer over others, if not a favorite. This is how we would like our systems to sound.
Unfortunately as many of us know, this really is not possible, especially within the confines of an automobile. After only being in a few vehicles our ears recognize the inherent characteristics of this unique environment. Most of what we hear in a vehicle from a system is a recording of the original artist in a given enviroment, usually in two channel stereo, now playing in a totally different environment with the listeners placed in awkward listening positions relative to the placement of speakers. But we can create great sounding systems with the understanding of acoustics, basic electronics, and the available products.
Acoustics (the study of sound) is worth a whole new site of it's own. I will write a condensed version when I'm finished with the many sections I've already started (see below). These include a glossary of terms, passive crossovers & calculators, impedance calculators, subwoofer wiring, component wiring, enclosures, and other installation tips and necessities relating to mobile audio and electronics.

Follow the12volt.com

Tuesday, September 26, 2023

• Copyright © 1999-2023 the12volt.com, All Rights Reserved

• Privacy Policy & Use of Cookies

Disclaimer:

*

All information on this site ( the12volt.com ) is provided "as is" without any warranty of any kind, either expressed or implied, including but not limited to fitness for a particular use. Any user assumes the entire risk as to the accuracy and use of this information. Please verify all wire colors and diagrams before applying any information.