Car Security and Convenience / Power Door Locks, Special Wire Systems

Single Pulse to Lock and Unlock
Using a mechanical latching relay like the PCB lacthing relay pictured below on the left and an SPDT relay, you can use a single negative output to alternately lock and unlock the doors. The mechanical latching relay only requires it's coil to be momentarily energized to change and maintain the opening or closing of it's contacts. The SPDT relay will provide a dedicated negative output for lock when the coil is energized and a dedicated output for unlock when it is not energized.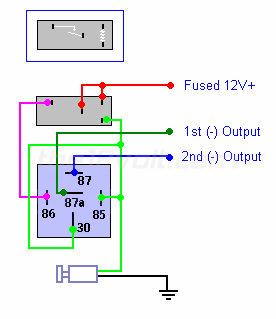 Nissan Maxima 1995 - 1997 Door Locks, Double Ground Pulse Relay Diagram
If this vehicle has a factory security system, a double ground pulse to the Green/Yellow (factory disarm wire) wire will unlock all doors. Brown wire will only unlock driver's door (alternating 12 V+). Pulse(-) to Lt. Green/Red will lock all doors.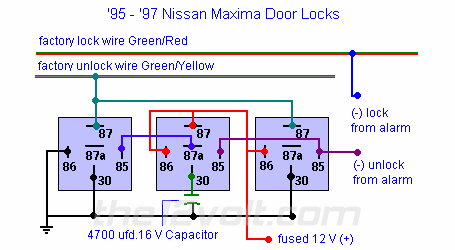 Toyota with Child Safety Door Lock System
Locate the child safety wire in the same harness as the lock and unlock wires. This wire will be different colors (see below) in different models and will show ground until the lock from the switch is activated. This is a three wire system with an additional wire that must see ground during unlock for all of the doors to unlock. An additional relay may not be required. This will depend on the outputs of your unit. If not needed, connect the unlock output to the wires shown on terminal #30.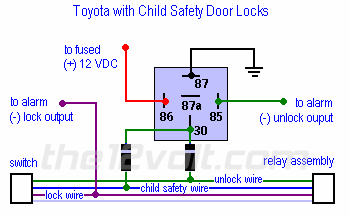 Child Safety Colors


4Runner
Camry / MR2
Celica
Corolla
Land Cruiser
Tacoma
Tundra
=
=
=
=
=
=
=
Red/Blue
Blue/Red
Green
Blue/Red
Blue/Orange
Blue/Black
Red/Yellow

Also see Requested Diagrams and Vehicle Information Database for child safety colors and other information not listed here.
Follow the12volt.com

Thursday, May 24, 2018

• Copyright © 1999-2018 the12volt.com

• Support the12volt.com • Privacy Policy • Top of Page

Disclaimer:

*

All information on this site ( the12volt.com ) is provided "as is" without any warranty of any kind, either expressed or implied, including but not limited to fitness for a particular use. Any user assumes the entire risk as to the accuracy and use of this information. Please verify all wire colors and diagrams before applying any information.