Door Locks - 3 Wire Positive (Type A) Relay Wiring Diagram
Dozens of the most popular 12V relay wiring diagrams created for our site and members all in one place. If you need a relay diagram that is not included in the 76 relay wiring diagrams shown below, please search our forums or post a request for a new relay diagram in our Relay Forum.
Select a relay diagram or choose from the list below. (76 relay diagrams available)
Your ad blocker is preventing this page from displaying correctly.
Door Locks - 3 Wire Positive (Type A) Relay Wiring Diagram
This is one of the most common type of door lock switch configurations found in most vehicles. In most cases you will not need to add relays for this type. Most of the newer alarms and keyless entries on the market today have both positive and negative 200 ma door lock outputs that are usually capable of activating the factory relays. Should you need to add relays for a "3 wire negative (Type B)" door lock system, just change both normally open terminals (87) from 12V(+) to ground. If your alarm or keyless entry has positive outputs only, you will have to connect the other side of the coils to ground and connect your outputs as shown. The lock and unlock wires below refer to the switch wires, not the motor legs.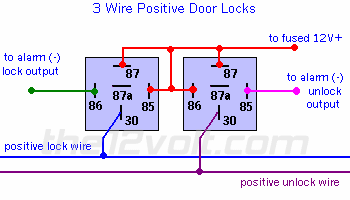 Relay Diagrams - Quick Reference
(Last Updated: 5/4/2020)

Follow the12volt.com

Wednesday, June 7, 2023

• Copyright © 1999-2023 the12volt.com, All Rights Reserved

• Privacy Policy & Use of Cookies

Disclaimer:

*

All information on this site ( the12volt.com ) is provided "as is" without any warranty of any kind, either expressed or implied, including but not limited to fitness for a particular use. Any user assumes the entire risk as to the accuracy and use of this information. Please verify all wire colors and diagrams before applying any information.