Latched On/Off Output Using Two Momentary Negative Pulses - 2 Negative Outputs - Create Ground While Armed Relay Wiring Diagram
Dozens of the most popular 12V relay wiring diagrams created for our site and members all in one place. If you need a relay diagram that is not included in the 76 relay wiring diagrams shown below, please search our forums or post a request for a new relay diagram in our Relay Forum.
Select a relay diagram or choose from the list below. (76 relay diagrams available)
Your ad blocker is preventing this page from displaying correctly.
Latched On/Off Output Using Two Momentary Negative Pulses - 2 Negative Outputs - Create Ground While Armed Relay Wiring Diagram
Once activated by the relay on the left, the relay's coil in the middle will stay energized providing a negative output until power to the coil of the relay is broken by the relay on the right. While the latched is engaged, the violet wire will provide a negative output. When the latch is not engaged, the orange wire will provide a negative out.

*This was created for a member who needed a ground when armed output for an alarm that did not have this output. In this case, we recommend using the orange output (not latched), and activating the latch with the unlock output from the alarm and disengage the latch with the lock output of the alarm to minimize current draw when the alarm is armed/locked. "How to create a Ground While Armed" forum topic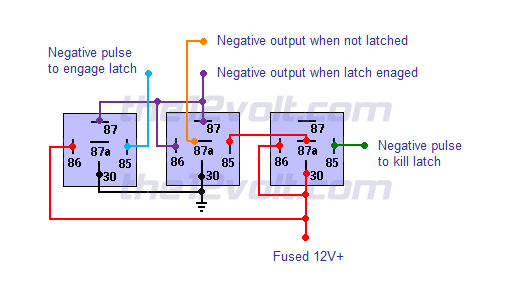 Relay Diagrams - Quick Reference
(Last Updated: 5/4/2020)

Follow the12volt.com

Friday, December 1, 2023

• Copyright © 1999-2023 the12volt.com, All Rights Reserved

• Privacy Policy & Use of Cookies

Disclaimer:

*

All information on this site ( the12volt.com ) is provided "as is" without any warranty of any kind, either expressed or implied, including but not limited to fitness for a particular use. Any user assumes the entire risk as to the accuracy and use of this information. Please verify all wire colors and diagrams before applying any information.