Relay Diagrams: Radio On Until Door Opened (Retained Accessory Power) - Negative Door Trigger
Dozens of the most popular relay diagrams created for our site and members all in one place. If you need a diagram that is not included in the 73 relay diagrams shown here, please search or post your request in our forums.
Select a relay diagram or choose from the list below. (73 relay diagrams available)
Radio On Until Door Opened (Retained Accessory Power) - Negative Door Trigger
If you wish to keep the radio (or any other device that is powered by an accessory circuit) on until a door is opened, you can do so by creating a latch when the accessory is turned on with the relay shown below on the left, then breaking ground to the latch when a door is opened as shown with the two relays below on the right. To prevent 12V+ from feeding back into the accessory circuit you need to isolate the device you want to stay powered by cutting the accessory wire going to it and adding two 1 amp diodes as shown below. The first diode near the top left of the diagram is to prevent 12V+ from going back into the accessory circuit. The second diode between terminals 87 and 86 prevents the radio from pulling current through the first diode. If the second diode is not in place, the first diode will become toast.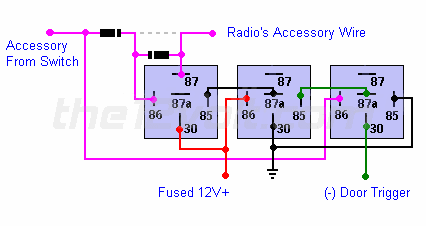 Relay Diagrams - Quick Reference
(Last Updated: 2/22/2017)
Follow the12volt.com

Monday, February 19, 2018

• Copyright © 1999-2018 the12volt.com

• Donate to the12volt.com • Advertising • Top of Page

Disclaimer:

*

All information on this site ( the12volt.com ) is provided "as is" without any warranty of any kind, either expressed or implied, including but not limited to fitness for a particular use. Any user assumes the entire risk as to the accuracy and use of this information. Please verify all wire colors and diagrams before applying any information.