Relay Diagrams: Connecting Additional Devices to the Remote Turn On Wire
Dozens of the most popular relay diagrams created for our site and members all in one place. If you need a diagram that is not included in the 73 relay diagrams shown here, please search or post your request in our forums.
Select a relay diagram or choose from the list below. (73 relay diagrams available)
Connecting Additional Devices to the Remote Turn On Wire
Using a 30 amp SPDT relay, connect terminal #87 to constant 12 volts positive with a fuse rated to the sum of the additional accessories you've added and the components you need to turn on. (If you have two fans rated at 5 amps each and a neon light rated at 10 amps, you would use a 20 amp fuse plus 200 ma for each amplifier and processor.) Connect terminal #85 to ground, terminal #86 to the remote turn on wire from the head unit, and terminal #30 to each accessory with an appropriate fuse. A fuse (not shown) could also be used between the output of the relay (#30) and the remote turn on wire of the amplifiers and/or processors for extra precaution.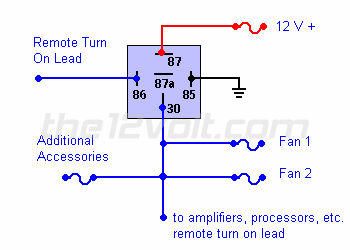 Relay Diagrams - Quick Reference
(Last Updated: 2/22/2017)
Follow the12volt.com

Thursday, August 24, 2017

• Copyright © 1999-2017 the12volt.com

• Donate to the12volt.com • Advertising • Top of Page

Disclaimer:

*

All information on this site ( the12volt.com ) is provided "as is" without any warranty of any kind, either expressed or implied, including but not limited to fitness for a particular use. Any user assumes the entire risk as to the accuracy and use of this information. Please verify all wire colors and diagrams before applying any information.