Relay Diagrams: Constant to Momentary Output - Negative Input/Positive Output
Dozens of the most popular relay diagrams created for our site and members all in one place. If you need a diagram that is not included in the 73 relay diagrams shown here, please search or post your request in our forums.
Select a relay diagram or choose from the list below. (73 relay diagrams available)
Constant to Momentary Output - Negative Input/Positive Output
The capacitor allows the coil of the relay to be energized until the capacitor stores a charge, thus de-energizing the coil. The resistor discharges the capacitor when ground is removed by the switch or 12V is removed from the coil of the relay if using a switched 12V source such as ignition or accessory. You can increase the output time by simply changing the value of the capacitor. This one will give you about a 1/2 second output.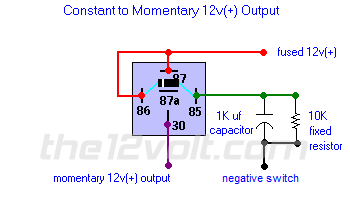 Relay Diagrams - Quick Reference
(Last Updated: 2/22/2017)
Follow the12volt.com

Sunday, March 18, 2018

• Copyright © 1999-2018 the12volt.com

• Donate to the12volt.com • Advertising • Top of Page

Disclaimer:

*

All information on this site ( the12volt.com ) is provided "as is" without any warranty of any kind, either expressed or implied, including but not limited to fitness for a particular use. Any user assumes the entire risk as to the accuracy and use of this information. Please verify all wire colors and diagrams before applying any information.