Relay Diagrams: One Channel to Multiple Outputs
Dozens of the most popular relay diagrams created for our site and members all in one place. If you need a diagram that is not included in the 73 relay diagrams shown here, please search or post your request in our forums.
Select a relay diagram or choose from the list below. (73 relay diagrams available)
One Channel to Multiple Outputs
You can add multiple functions to an AUX output of an alarm or keyless entry by adding a relay in series with the output wire as shown to any switch or accessory with an output. Only one output can be active at anytime, the one first in the chain (bottom relay in diagram) will have priority, so if you wanted to have the ignition from the key to have priority over the ignition from the remote start, you would connect it to the first relay and the output of the remote start to the next and so on. Also pay attention to the top relay shown. Terminal #87a (the default output) will be active only when none of the coils of the relays are energized. There are many other accessories that can be used with this, including the remote turn on wire and/or power antenna wire of your head unit.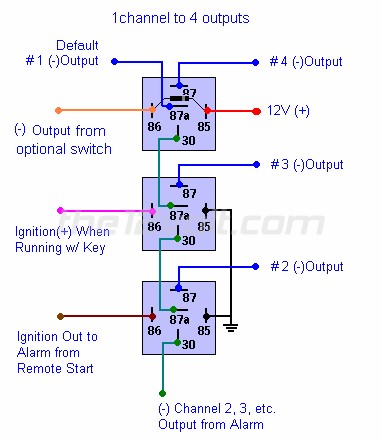 Relay Diagrams - Quick Reference
(Last Updated: 2/22/2017)
Follow the12volt.com

Tuesday, August 22, 2017

• Copyright © 1999-2017 the12volt.com

• Donate to the12volt.com • Advertising • Top of Page

Disclaimer:

*

All information on this site ( the12volt.com ) is provided "as is" without any warranty of any kind, either expressed or implied, including but not limited to fitness for a particular use. Any user assumes the entire risk as to the accuracy and use of this information. Please verify all wire colors and diagrams before applying any information.