Relay Diagrams: GM Vehicle Anti-Theft System - Passkey
Dozens of the most popular relay diagrams created for our site and members all in one place. If you need a diagram that is not included in the 73 relay diagrams shown here, please search or post your request in our forums.
Select a relay diagram or choose from the list below. (73 relay diagrams available)
GM Vehicle Anti-Theft System - Passkey
GM VATS Known Wire Color Combinations:
These are most often found inside Orange Sheathing coming from the Ignition Switch.
Yellow and Yellow
White and White
White, Yellow, and Black
Red/White, Yellow, and Orange/Black
Yellow and Brown
Purple and Purple/White
White/Black and Purple/Yellow White/Black and Purple/White

GM Resistor Values:
392 Ohms
525 Ohms
680 Ohms
890 Ohms
1.13 K Ohms
1.47 K Ohms
1.80 K Ohms
2.37 K Ohms
3.00 K Ohms
3.74 K Ohms
4.75 K Ohms
6.00 K Ohms
7.50 K Ohms
9.53 K Ohms
11.8 K Ohms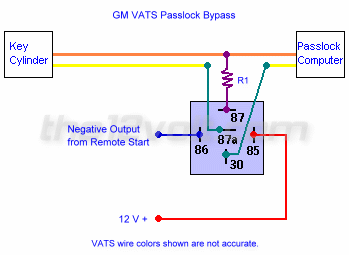 Relay Diagrams - Quick Reference
(Last Updated: 2/22/2017)
Follow the12volt.com

Monday, February 19, 2018

• Copyright © 1999-2018 the12volt.com

• Donate to the12volt.com • Advertising • Top of Page

Disclaimer:

*

All information on this site ( the12volt.com ) is provided "as is" without any warranty of any kind, either expressed or implied, including but not limited to fitness for a particular use. Any user assumes the entire risk as to the accuracy and use of this information. Please verify all wire colors and diagrams before applying any information.